2 novembre 2012
5
02
/

11
/

novembre
/

2012
13:13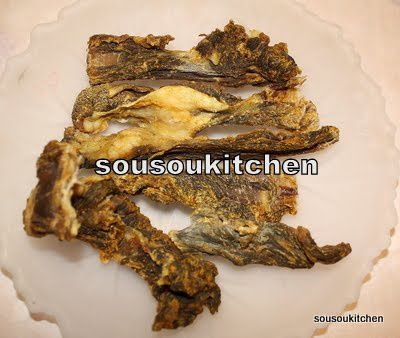 In El Eid (Muslim Holiday), our custom consists that every family,
as far as its means allow, sacrifices a sheep. We prepare meals
with this meat, Tagines , couscous, and grilled as well,
we leave part of the meat to dry, that what we call "El Gedid".
The meat is marinaded in several spices and dried under the sun,
so that we can eat all year long.


INGREDIENTS:
- 3 pounds beef
- 4 Tbs salt
- 6 garlic cloves
- 3 Tbs coriander powder
- 1 Tbs cumin
- a pinch of saffron
- 1/2 tsp turmeric
- 1/2 cup olive oil
- 1/4 cup vinegar

STEPS :
so that the spices are absorbed into the meat
(this helps the meat from rotting).
Let marinade for at least one hour, hang the meat on a thread,
let dry under the sun all day long, to bring inside for the evening,
then the next day, hang it again under the sun until it is well dried
and its color becomes dark.

To keep El Gedid all year long, honnestly, I have no idea,
because I never prepare it myself, I asked my mother
who said to me this :
You should not put it in the freezer, it is simply necessary
to cover it with a white cloth and to put it in a plastic bag,
keep it in a drawer,
to take it out every two months and sun dry it.