24 août 2014
7
24
/

08
/

août
/

2014
19:19
How to make authentic moroccan Couscous from scratch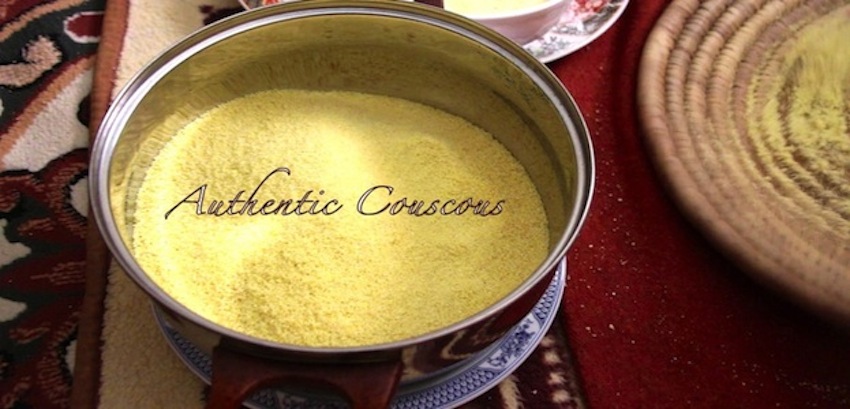 I remember when I was still living in Morocco, every Friday
the smell of couscous filled the air of the neighborhood, a mixture of spices,
saffron, ginger, pepper, coriander ... in addition to lamb, beef
or chicken, vegetables ... The couscous cooked with the steam
that escapes from these vegetables. In Moroccan homes, this traditional dish
is an expression of love, generosity and hospitality.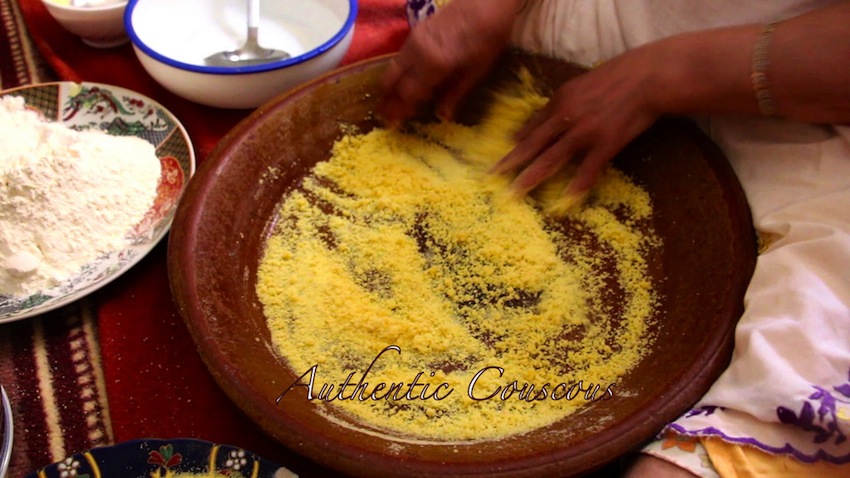 As promised, today I show you how my mother rolls her own
couscous at home. It starts with putting water on coarse semolina
roll it, then she adds fine semolina, she ends up adding
flour while working couscous with her hands, as you are going to
see on the video. A dedicated video especially to my fans who live far from the
Maghreb, which do not have access to couscous or even if they find it in
Oriental stores, it is very expensive.

In my view, there is no substitute for steamed couscous.
The instructions on the box of couscous trade say it
pour boiling water over the pellets and let them soak for
five minutes only. I do not deny that these grains "wet" are
edible, but for me, they are dead, these grains have not been given
the chance to grow. Steamed couscous and aeration so
traditional, the granules absorb much more moisture. it
takes time, but you'll be rewarded by obtaining tender kernels.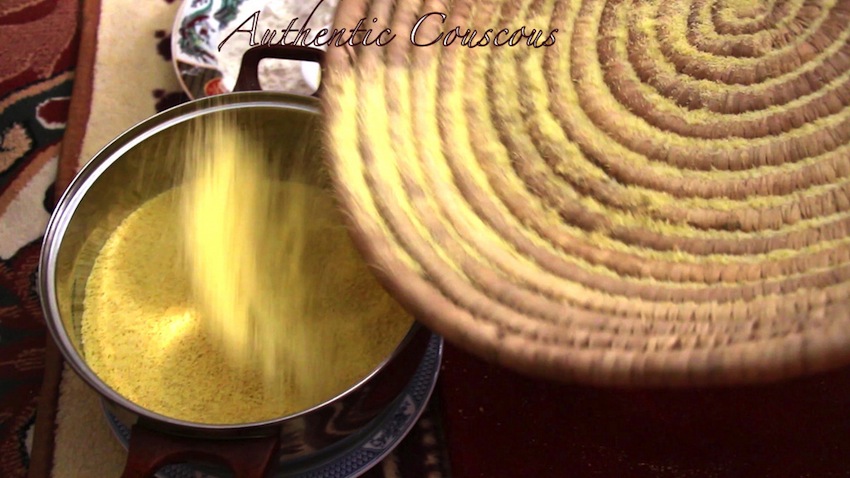 The best way to see this difference is to do a test.
to steam couscous as the traditional way (see my recipe
couscous for details) and cook a small amount of the way
five minutes. You will quickly notice that the cooked couscous
steam and extra volume of aroma, and it is considerably
softer and lighter. Granules steamed couscous
appear to be multidimensional, too, as small individual
grains rather than large moist pieces.

All the couscous you find in stores can be steamed,
even if it is packaged as instant. Commercial couscous is made
mixing the granulated with water to form a crumbly dough, which is then
rolled into granules. The granules are steamed, and couscous is then
dried and sieved. (It is possible to make granules of other couscous
types of grains such as corn, millet, barley, but these are less frequent.).
Back in the old days, my mother made ​​her couscous granules from scratch,
rolling semolina flour by hand, sieving the mixture through a sieve
woven, then let dry pellets in the sun.
To steam couscous, Moroccans use a large pot two
parts called couscoussier. It consists of a deep pot (Bourma) and
a flat sieve base (kesskess) which is completely above
the pot. The pot for the broth, meat and vegetables, while the couscous
in that the sieve is on top. If you have a couscoussière in
your closet, that's fine. Otherwise, it is easy to fake it with a pot
and a strainer. Choose a sieve with holes on the bottom only
(no side) if possible. It is also important that the strainer is adapted
snugly inside the pot; The idea is to minimize the space
or holes where steam can escape; you want to force the steam to rise
through the couscous. To help accomplish this, we must seal the joint between
the colander and the pot with gauze or a strip of old towel that was
dipped in the flour and water.
THE VIDEO